First Bersih NL Gathering for 2019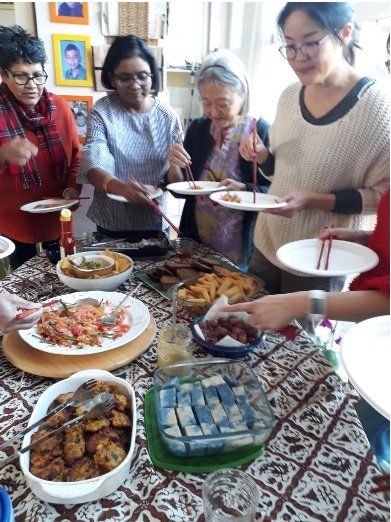 We had our first Bersih NL gathering in Utrecht on 19 Jan 2019. About 14 members and friends attended the event. Our members brought desserts and homemade cakes. As it was near Chinese New Year, we also had "yu sang" (Chinese salad) as a symbol of a better and prosperous new year!
Bala (Chairman of Global Bersih) and Nirmala (Secretary of Global Bersih) joined us via Skype and we discussed what Global Bersih is currently working on:
1. Raise fund for the Electoral Reform for Overseas Voting project. The aim is to be able to hire one person to be based in Kuala Lumpur for GB to work directly with EC and Bersih 2.0 on the overseas voting.
2. Perform survey on Electoral Reform – target to be sent out by end of the month
a) Look at the current survey form and suggest improvements
b) Collect as much information as possible via the survey
c) Follow-up actions after the survey
The meeting lasted about 3 hours and we all had fun, enjoyed the fellowship and delicious Malaysian "kuih". We look forward to contribute to nation building for a better Malaysia!