Bersih Netherlands Press Statement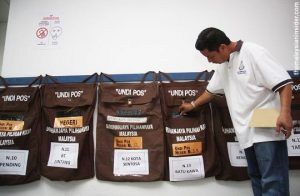 BERSIH NETHERLANDS URGES ELECTION COMMISSION (EC) NOT TO INTRODUCE POSTAL VOTING
In response to the announcement by Election Commission (EC) chief Mohd Hashim Abdullah about postal voting for Malaysians currently residing abroad, we urge the EC not to implement this postal voting facility. The EC chief stated that registered overseas Malaysians can now cast their vote in the GE14 via postal ballot papers which will be mailed to their overseas address. Pos Malaysia Berhad will fully manage the sending of the postal ballot papers, not the Foreign Ministry (Wisma Putra).
This is a change in the previous arrangement for the 2013 General Elections: that Malaysians residing outside Malaysia register themselves as absent voters, collect their ballot papers, cast their vote and drop them off at their respective foreign commission offices. In the past, many have experienced unfortunate incidents: postal ballot papers either being misplaced or reaching their overseas address too late so that there was insufficient time to send them back to Malaysia. The instruction from the EC's announcement is also vague because there is no mention of where postal voters should send their votes: to their respective constituencies in Malaysia or to the Wisma Putra? That the ballot papers will be managed by Pos Malaysia Berhad is regrettable because this increases the likelihood of fraud and other mishaps. Besides Wisma Putra is not taking the responsibility to ensure that there is no tampering of ballot papers sent through the mail.
Bersih Netherlands also supports an earlier press statement by Bersih Shanghai urging the Malaysian government to announce the general election date at least two months in advance, so that Malaysians residing overseas can make arrangements to fly back to Malaysia and perform their duty as a voter and loyal citizen. There are other countries that issue early notice, for instance the UK government announces the election date 8 weeks in advance.
The coming general election is widely speculated to be held in late March or early April.
Because many overseas Malaysians are employed fulltime or they are studying, they require sufficient notice to reschedule their commitments overseas, and book their flight in advance.
There are currently more than 70,000 Malaysians residing in Europe, with more than 63,000 of them are living in the UK. Malaysia is one of the leading countries with a high percentage of citizens living abroad, and the number is estimated to be in excess of one million.